andre
This user hasn't shared any profile information
Posts by andre
Dear colleagues,
All information about the International Chariot Conference (1 & 2 December 2012 in Cairo) is conveniently put together on one page, see http://www.leatherandshoes.nl/conference/. Here you will find all the details about the conference itself, how to submit the paper for the proceedings as well as hotels and traveling.
Other 'leatherandshoes.nl' news: a new volume on ancient Egyptian footwear is about to be published by Sidestone in Leiden (www.sidestone.nl): Leatherwork from Qasr Ibrim (Egypt). Part I: Footwear from the Ottoman Period.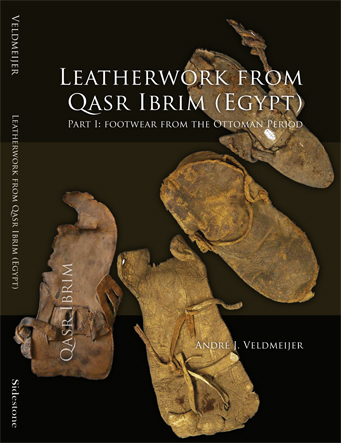 Four more papers are submitted and in press:
In press. Studies of Ancient Egyptian Footwear. Technological Aspects. Part XVIII. Fibre Composite Sandals. – Jaarberichten Ex Oriente Lux.
In press. Studies of Ancient Egyptian Footwear. Technological Aspects. Part  Part XIII. Side-Covering Leather Sandals. – Jaarberichten Ex Oriente Lux.
In press. Studies of Ancient Egyptian Footwear. Technological Aspects. Part XIX. Mules. – Jaarberichten Ex Oriente Lux.
In press. Studies of Ancient Egyptian Footwear. Technological Aspects. Part XVII. Leather Stubbed-Toe Ankle Shoes. – Jaarberichten Ex Oriente Lux.
The idea to update the blog every day after work proved impossible in the last four weeks, unfortunately. Since the last posting, we have worked for several more days. During this time we managed to finish the work on the finds from the tomb of Amenhotep II. Still several fragments of the Tano chariot need our attention: fortunately, our conservator is back in town, which means that the whole team is ready to finish the registration. Meanwhile, a television team of TV 6 came to film us and the Tano leather. The crew was accompanied by Robert Huford (see www.chariotmaker.com), who is specialised in chariot reconstructions. Also Kathy Hansen, specialist in horses and especially harnessing. The discussions with our colleagues proved very useful.
Besides the work on the Egyptian Museum Chariot Project, work continues to study the footwear in the collection as well. Due to the excellent collaboration with the responsible curator, Wafaa Habib, we managed to register a fair number of sandals, shoes and other footwear, including the leather mules from Deir el-Medinah, more examples of sewn-edge plaited sandals, a fibre open shoe as well as leather eared sandals. The large majority registered this year, however, are wooden tomb sandals. Moreover, this part of the collection is being refurbished and newly written labels will be included. We have good hope that we will be able to finish the re-organisation within two weeks from now.
A new project was started several weeks ago, dealing with the leather finds from Fustat. The far majority of this corpus, however, consists of footwear (see http://www.leatherandshoes.nl/ancient-egyptian-leatherwork-project-aelp/). The material was excavated by the IFAO in several seasons work.
The Coptic Museum Project, studying the leather and basketry collection, is started in May as well (http://www.leatherandshoes.nl/coptic-museum/). More information about this project will follow in due course: on June 14th, it will be presented at the Netherlands-Flemish Institute in Cairo. During this event, the recently published book 'Sandals, shoes and other leatherwork from the Coptic Monastery of Deir el-Bachit. Analysis and Catalogue. – Leiden, Sidestone Press' will be presented. The book can be read in the e-library of the publisher (www.sidestone.com).
For a list of recent publications on footwear and leatherwork see the pages dealing with the projects.
The last two weeks, two days of work on the Amenhotep II leather was done. This important material, remnants of quivers and bow-cases as well as more ordinary red axe lashings, have been described (Salima) and photographed (André). It becomes increasingly clear that there are many differences between these finds and those from other tombs, but, interestingly, also many analogies. The material is very fragile and in need of conservation, the possibilities of which will be explored by our conservator, Lucy.
Two more days of working in the museum. We have been able to finish checking the description of the 'Tano' chariot – our part of the work is nearly done but the conservation and consolidation will continue for some time to come.
The EMCP includes the study of other chariot leather; some objects from the tomb of Tuthmosis IV remains to be studied as well as the finds from Maiherpri. Thursday 22 March we started working on the leatherwork from the tomb of Amenhotep II, discovered in 1898 by Victor Loret. This material, including parts of (a)bow case(s), is important for various reasons, among which is the elaborate decoration (seemingly much more elaborate than the leatherwork from Amarna and the tombs of Amenhotep III and Tutmosis IV) as well as the extensive use of glue.
The work with texts mentioning chariots and related topics is progressing as planned. So far the focus has been placed on creating a complete overview of attestations of chariots in the written record of the New Kingdom. The information to be gained from the texts is twofold. Firstly, the ancient Egyptian language contained different words for different kinds of chariots as well as a technical terminology comprised by names for chariot parts and associated equipment. Secondly, the textual record allows us to glimpse into the many social contexts in which chariots are attested and can thus help us to place the chariot in a micro-historic framework within New Kingdom society.
Chariot iconography research is well underway. A collection of Eighteenth Dynasty depictions of chariots is basically complete. We are assembling a spreadsheet so that the sources can be easily reviewed and shared, and of course, checked for omissions. Sources included are: temple walls and blocks, private tombs, stelae, and ostraca. We have also been collecting any article or book chapter, which discusses any aspect of chariots in ancient Egypt, and also relevant articles about leather. When the spreadsheet is finished and checked, we will move on to the Ramesside evidence for chariots, a little more daunting task because of all the temple war scenes.
See http://www.leatherandshoes.nl/ancient-egyptian-leatherwork-project-aelp/ (scroll down to EMCP for earlier accounts and images).
andre's RSS Feed