andre
This user hasn't shared any profile information
Posts by andre
Chasing Chariots. Proceedings of the First International Chariot Conference (Cairo 2012) is now available at: http://www.sidestone.com. Free browsing in the e-library of the publisher.
André
The Proceedings  of the First International Chariot Conference, jointly organised by the Netherlands-Flemish Institute in Cairo (NVIC) and the American University in Cairo (AUC) (30 November to 2 December 2012). A wide variety of papers are included, varying from overviews to more detailed studies focusing on a specific topic. The contributions are from a wide range of scholarly specialties and for a diverse audience and are of interest to scholars from different backgrounds, as well as anyone with an interest in ancient technology, transportation, or warfare.
Check http://www.sidestone.com/books/chasing-chariots
Dear visitor,
The Tano attracts lots of attention from the media. Yesterday (23 May) a two page article was published in the English el-Ahram (Egyptian) Newspaper. This article will be posted on the website of the newspaper today or tomorrow. Another interview was published just some time ago at: 
http://www.aucegypt.edu/newsatauc/Pages/story.aspx?eid=1085#
André
My new book on the Ottoman leather footwear from Qasr Ibrim is now available at http://www.sidestone.com/books/leatherwork-from-qasr-ibrim-egypt. You can read it for free in the e-library at http://www.sidestone.com/library/leatherwork-from-qasr-ibrim.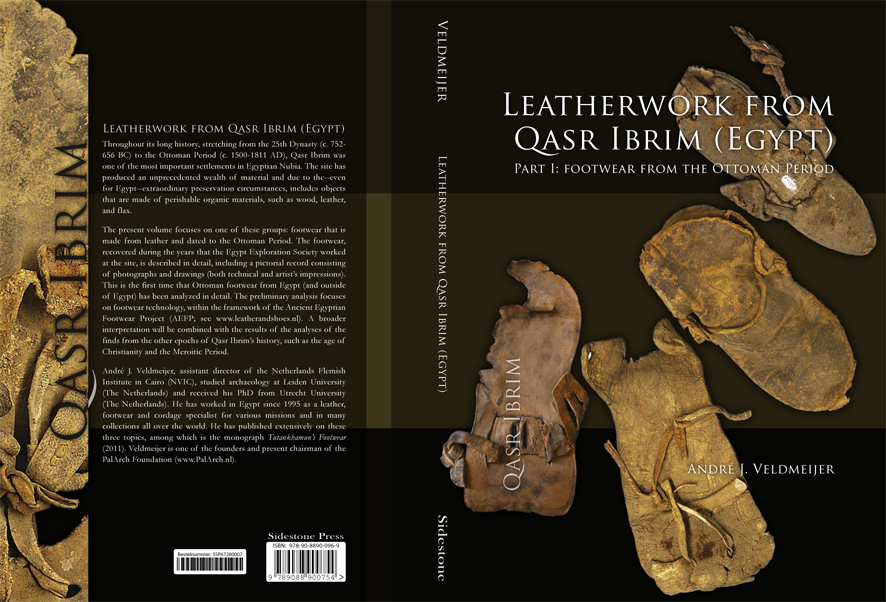 Much is known about Ancient Egypt, in particular in matters concerning religion and everything dealing with life after death, like mummies. Much less is known about daily life, and in particular about the lives of 'ordinary' Egyptians. How did these people live? How did they make a living? What type of clothing did they wear?
The exhibition Footwear in Ancient Egypt focuses on a small, but important aspect of daily life: sandals and shoes. Apart from offering protection, footwear was important also in terms of status and symbolism as the determining factors of who could wear what. In addition, footwear may also provide much information about people's health.
The exhibition presents footwear through the ages. Attention is paid to the technology and organization of production of footwear, as well as to its symbolic value. The exhibition deals with sandals and shoes from all layers of society: from soldier to king, and from peasant to priest. Apart from information panels, the exhibition features reconstructions, among which one of the shoes of the Pharaoh Tutankhamun, as well as original sandals.
(Translation by Rudolf de Jong)
Photography by Adri 't Hooft Photographic Services
Selection of images of the First International Chariot Conference, jointly organised by Dr. Salima Ikram of the American University in Cairo and Dr André J. Veldmeijer of the Netherlands-Flemish Institute in Cairo, took place on Friday 30 November and 1 & 2 December. The conference was held at the NVIC, with specialists from all over the world attending. This exciting conference covered a wide variety of topics (see the abstracts at http://www.palarch.nl/category/egypt/), although the focus remained on ancient Egyptian chariots. Twenty-two papers were given, including the key-note lecture by Prof. Dr. Joost Crouwel who, back in 1973, studied Tutankhamun's chariots together with the late Mary Littauer. The objective of the conference was to assess the current knowledge on chariots and pinpoint the lacunae for further study. Thus, research can be directed more precisely to acquire missing knowledge. In this we were successful as the conference served as inspiration for new research, new ideas and as meeting point for scientists. The success of the conference can, perhaps, best be valued by the call for a follow-up conference in due course.
Dear visitor,
The last lecture of the NVIC Thursday evening lecture series before summer break saw the presentation of an initiative of the Netherlands-Flemish Institute in Cairo (NVIC). Now, it is with great pleasure that we announce that we have secured funding to train the Curators of the Coptic Museum in Cairo through a generous grant awarded by Nuffic (Netherlands Universities Foundation for International Cooperation). This means that in January 2013, the training programme "Researching Museum Collections: Coptic Museum" will start. The NVIC works closely together with the Coptic Museum, the Bibliotheca Alexandrina, the Ministry of State for Antiquities and the American University in Cairo and the Egyptian run e-journal World Wide Archaeology. [read more]
andre's RSS Feed